A Look at the Legacy of J.P. Vaughn
Today I wanna talk to you about J.P. Vaughan and her legacy. You may not know that she passed away in 2015 after losing a battle to cancer.
Certainly, my goal in discussing her career path and involvement in real estate is to honor her memory and create a bit of a "period" at the end of a sentence in the online world and offer a salute to her online legacy that will be left behind for others to discover for years to come.
She was so much a pioneer in this space.
First off let me drop this out there… Cancer is a b!tch.
I lost my mom to cancer. I remember those days leading up to her passing. One scene in particular stands out.
>>It was early in the morning New Years Day. (3 days before she died.)
She no longer had the strength to get out of bed and she asked me if I could help her use the bathroom. I lifted her back and helped her move her legs to the edge of the bed.
She also couldn't walk that well, so I held onto her tightly with a bit of distance between us as if we were ballroom dancing and I helped her shimmy her way around to the porta potty next to her bed.
Although this only took 10 to 15 seconds it felt like an hour.
I realized later then that it was to be "our last dance."
-Flash backs to 5. The image of me dancing with her as a young boy comes to mind. I remember when I was a little boy she'd have me place my feet on top of hers (I was light enough and half her size) and I stood with my feet on hers, she danced around the house with me so I didn't have to learn any steps.
I remember the twirling and swirling feeling as she'd spin me around.
>This dance of course was much different, much more significant.
She on the other hand in just a few days from then would dance with Jesus, and I wish I could have been there to see that.
So, going into writing a review on JP Vaughan, just be aware this is my backdrop.
These moments are really tough and it help me get clear on my purpose in life. I find that at the end of every funeral there is a momentary silence of all the noise and distractions life.
It is often one of the only times that I feel all that I see things clearly for what they are. That we cannot take what we have with us.
But we can leave a legacy. We leave a legacy to our children to our friends and even to strangers. One of the things that I am excited about in the work that I do is that these pages will remain online potentially forever.
So hats off to Jeanne Ekhaml, J. P. Vaughn's daughter for taking over for her mom.
Let's get to it.
J.P. Vaughan Bio and Background
Leaving her law practice to invest in real estate full time in 1988, J.P. Vaughan became well-versed in real estate investing. She even published a book in 1995 on the subject. In 1995, with the power of the Internet, she explored the possibility of introducing real estate investing information online. She created the side: creonline.com.
The site is still going strong and is run by her daughter Jeanne Ekhaml.
The only problem I can see on the site is that it isn't mobile compliant and is in need of some updating. Not being mobile compliant these days can hurt rankings. Check out what Google says about it. https://moz.com/blog/9-things-about-googles-mobile-friendly-update
Check out the google developer scan I did on it.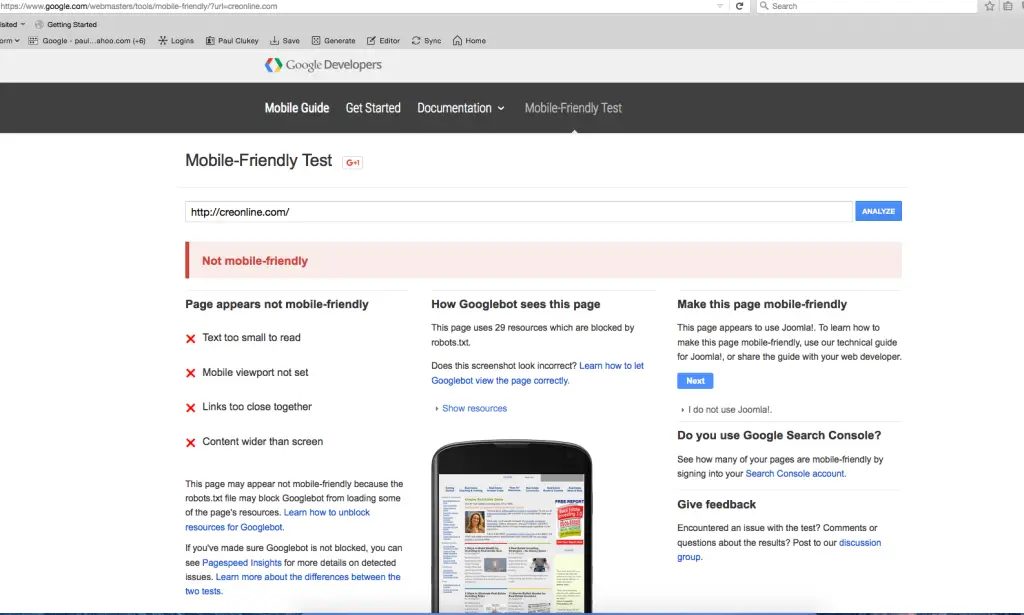 Beyond that, here is what they are offering.
J.P. Vaughan Products and Resources
JP Vaughan's primary vehicle for real estate investing education was her website, Creative Real Estate Online, and as discussed…She founded this online platform in 1995 and it has continued to be active despite her recent death. Her daughter now heads up operations.
The website contains a wealth of free information as well as an online store and information about real estate coaching and training.
CREOnline offers personal coaching and training for real estate investors. The coaching program is called Real Estate Investing 3.0: Forget Everything You Know About Investing in Real Estate and Start Making Real Money.
According to the website, the coaching contains premium training content and access to personal coaching as well as coaching forums.
The cost for the coaching is $97 per month.
The content In the coaching and training program begins with training on wholesaling  (also known as quick flipping). This is where you don't need money or credit and you can make a quick $5000 to $25,000 profit. Vaughan considered this the safest and fastest way to make money. She also considered it the best way to teach participants about overarching real estate investing principles, tools, and techniques.
CRE training materials are covered in four modules. Module one is called Wholesaling: The fastest way to quick cash, no money down. Module Two is Private money financing: Say goodbye to banks forever!  Module three is about fixing and flipping. Module Four is called Seller Financing: house sellers can help you buy their property.
The coaching calls are done In the context of a group call. It's a live call usually done once a month. Participants are able to ask all the questions they have with the coach who is online. If the call is missed, participants can catch up by listening to a recording of the call or reading a transcript.
The four modules contain many components. Here's an example of a few components in module one about wholesaling:
How to find all of the motivated sellers you will ever need
How to find a market to burned-out landlords
How to get referrals from social media
How to determine the value of the house
How to build your buyers list.
A few of the components from module two include: Why you should use private lenders; How to create winning joint ventures; and  How to build your own personal credibility kit.
Module Three contains 14 components. Some of these are Rehabbing fundamentals, Creating your rehab plan, and 10 steps to great curb appeal.
Module Four, which is on seller financing, contains these components among others: Six ways to structure offers, and How to find subject-to deals and lease option documentation.
The training lessons come in video form, audio form, and PDF transcript. CRE online understands that people take in information in different ways. To this end, they have made the training available in multiple formats.
The Wholesaling for Quick Cash module contains 30 videos, 30 transcripts, and 30 MP3s, plus all contracts, forms, and documents. That training is designed for beginning to intermediate real estate investors.
People who sign up for CRE online 's coaching and training program also receive Jim Ingersoll 's Private Lending Freedom Boot Camp. Ingersoll put on a two-day live event and this bonus deal is a DVD package of all of those Boot Camp sessions.
This boot camp package contains information that includes the following:
Where to find the very best real estate deals in your market
Learn the key to highest profit transactions
How to fund your healthcare using real estate investments
How to safely and securely lend money on real estate assets.
CRE Online has a menu tab with information on real estate investor clubs. You can click on links for any state in the United States as well as 12 countries and see where local real estate clubs are functioning. The list gives location and contact information.
CRE Online has quite a number of other free resources for the real estate investor. There is an article database with many pages of how-to articles written by different contributors.
Titles of some of these articles include:
Should I become a full-time real estate investor?
Close more deals using assumptive language patterns,
Why you must learn to buy with no money down,
Real estate bubble theory is full of hot air,
10 mistakes to avoid when analyzing a deal.
These are just a fraction of the many articles available on this site.
There's a blog resource on CRE Online that contains blogs separated into the following categories: Apartments; Asset protection; buy-and-hold; Commercial real estate; Creative real estate investing; Finding buyers; Foreclosures; Short sales; House flipping; Wholesaling; Motivated sellers; no money down; Real estate investing strategies; and Real estate tax strategies.
The real estate book and courses tab presents six home study courses available for purchase. These are by various authors. Most of them cost around $100.
The site also contains a real estate investing forum. The purpose of it is to discuss real estate investments, real estate investing, creative real estate techniques and other related subjects. The host as of this writing is William Bronchik.
This is a current and active forum with threads posted as recently as three days before this writing in February 2016. It looks like a very active site with a lot of participation.
Although JP Vaughan is no longer alive, her website is still providing many resources for the new and intermediate real estate investor. Whether you are just looking for an investor club to join or you want to find a home-study course, this site provides that kind of information as well as much more.
CRE Online as a company has an A+ standing with the Better Business Bureau, and no complaints have been filed against it.