< Sorry I'm reworking my video. In the meantime check out our Apply for a video from James.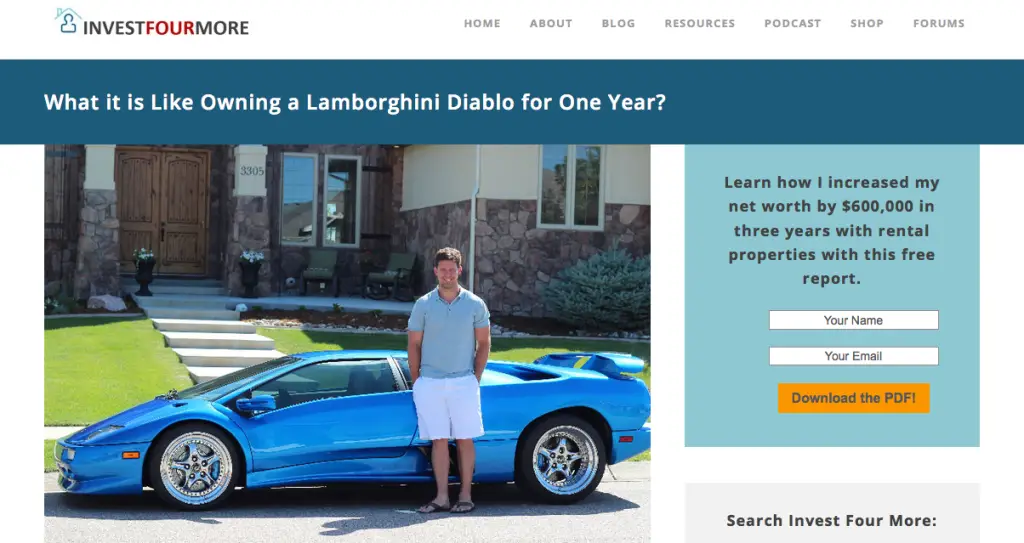 (photo credit: investfourmore.com)
Mark Ferguson Real Estate Review:
Mark Ferguson grew up in a household where real estate was a common theme. His dad was a Realtor and got his start in 1978. Originally Mark was thinking about going into finance, and completed his college studies with this in mind.
But as he puts it, the right opportunity never presented itself. So like a Nancy Drew Novel in a twist of fate, real estate investing came knocking on Mark Ferguson's proverbial door.  He began working for his dad.
This kind of story reminds me of Andrea Bocelli (famous Italian Tenor).  When he was asked whether he always wanted to become a famous singer, he responded  something like this, "In life, you don't choose to become a singer, rather, you are chosen by the people around you as a singer.  A singer is only a singer because people want to hear them sing. Every where I go, people want to hear me sing.  They chose me." I think this is a little like how Real estate chose Ferguson. ;-)
Since then he has created his own real estate team of 10 people. They're highly successful selling a whopping 200ish homes per year each, and Mark has a knack for flipping (fixing and selling or renting) 10 to 15 homes per year.
Mark Ferguson is married and has two children. He lives in Colorado and has made it big in real estate. He runs a blog called Invest Four More.
I spent some time on his blog, He has really done a great job of pulling together great information. He is able to talk about very difficult real estate subjects with ease. His writing shows that he not only a skilled writer/blogger, but also proficient at real estate investing.
What's up with the Bright Blue Lamborghini Diablo?
Can anyone say brilliant marketing?!! -I love it. Well executed….
One of my favorite discussions that he has on his blog is about exotic cars.
I love exotic cars and own one, so I could really connect with him on this. He bought himself a Diablo Lamborghini and he uses it as a marketing tool.
He blogged about his experience of owning it for a year.
I had never thought about writing about my experiences, but it is definitely sometimes really fun to own one and then can be a real drag…
like when your ex wife's new husband wants you to pay for more shit that child support should cover.  I think the comment was something like…."why don't you sell your damn porsche."   ;-)
Over the years I have seen different marketers use different things to create talking points. Whether you are wearing a funny hat or driving a bright blue Lamborghini, it is a door opener for people to have a discussion with you. This is great marketing. As much as Mark is a solid real estate investor, he has cracked the nut for becoming a solid Internet marketer as well.
He loves real estate now because of the flexibility and freedom it offers. But no matter what,
I am still OUT! Because all of these gurus are making a fortune online.
If you jump over to Amazon, you'll notice that Mark Ferguson is the author of several books on the topic real estate.
All were written in 2014:
Here is a list in order.
How to Make it Big in Real Estate: From a millionaire agent
How to Buy Real Estate Below Market Value
Fix and Flip Your Way to Financial Freedom
How to Get Financing on Multiple Investment Properties
Retire Rich and Early with Real Estate
Dream Stories
His niche is definitely REO and HUD properties.
-According to my research he currently owns 11 long term rental properties that are producing over $50,000 a year in income for him.
He was also featured in a case study at (worthofweb.com.) In the case study, the author discusses Mark's main website (investfourmore.com) which he started in 2013.
At the time of the writing/interview he stated that he was making over $4,000 dollars each month from his blog that had about 150,000 views in August 2014.
So, if his real estate income is $50,000 a he's making $48,000 a year based on his annualized revenue from his statement, what would you prefer to spend your time doing. I am all for real estate investing. I'm all for owning houses outright and charging rents for them.
However, the faster, sexier, and lower risk way to make money is the one that James showed me.
-It has been a game changer for me.
It is really important to understand that there are ways around pretty much everything that you do online. In other words, it is very doable for the average Joe.
I don't believe that real estate is so"Doable" because it requires so much leverage. What do I mean by that? I simply mean that you need to have some money or have some relationships with people that do have money in order to succeed doing real estate. The financial aspect of real estate investing is simply very high, and mistakes can be really costly. Read my story.
In the review he also talks about how he got started as a blogger.
Blogging usually involves writing on subjects that people are looking for online. It is exactly what I'm doing here. I simply chose a niche that I knew something about and I began to write about it. As you can see it's not very hard to do. There're plenty of things to write about.
But, my point isn't really that you need to go out and start your own blog, It is simply that Real estate gurus have found that their background acts as a doorway to them being able to produce money online.
Every individual that I have reviewed so far seems to be making a killing online. Why is that? Well… It is pretty simple: People who aren't happy in their jobs want to find a way out. To most, it doesn't really matter whether it's real estate daytrading or Guest blogging, what matters is they needed a way to replace their income and stay at home. That is what James showed me how to do.
Now if you look at how James teaches his students (like me) to do it, you realize he keeps it super straight forward.
I wish I had run into him sooner because I really envy the people that find him first.
You can get to know him a bit through the videos I was able to post here.
Thanks for spending time on my blog…gonna sign off for now. I'm gonna go watch my boys' football practice.  Just gotta say, it is so nice to be able to be with my kids and accommodate their schedules. It was the life I always wanted to live…pinching myself.
I encourage you to do something. If you are here, either commit into real estate or your own small business.
If you aren't happy in your job, you gotta do something like I did. It was sucking the life out of me. I made great money, but I had completely lost interest.
Going through the motions everyday is exhausting.
Talk to you soon,