Real Estate Guru David Tilney: The "What's Next?" Real Estate Guy
Most real estate marketing gurus focus on acquisitions: They dangle shiny strategies in front of their customers' faces, promising them the perfect road to riches via real estate transactions. In other words, they deal with the actual process of buying real estate (and often flipping it).
In a refreshing change of pace, real estate guru David Tilney takes a different approach. Instead of teaching his followers how to acquire great real estate, he teaches them how to manage it. He leads seminars and writes books on topics like property security and tenant management.
Think of Tilney as the "What's Next?" real estate guy. After you buy a piece of property, he teaches how to secure, protect, and manage it.
So as far as managing a piece of property that I already own, great….good stuff.
I have had all kinds of rental property management blunders.
I remember cutting my vacation short to make sure that the gas company refilled a tank so that my tenants could have hot water,
>or SCRUBBING the shower floor for a tenant who swore she had hazardous mold growing…what was it?
-It definitely was NOT Hazardous MOLD.-
She liked that creamy, rich Dove shower soap…that formed a nice (nasty) layer/build up on the shower floor.  It just needed to be scrubbed.
AHHHHH!  scream, rip my hair out…bang my head against a bed of nails.
I once got a call from a brand new tenant who wanted out of her lease because she had to step across a drunk derelict dude who passed out in front of her door.
I let her out. Just in case you were wondering. I'm probably too soft. I felt bad for her.
Seriously…I have had my fair share property management woes.
So can David Tilney teach me (and you for that matter) a thing or 2 about real estate property management? Hell to the Yeah!
But as far as the real estate game itself goes,
>>I'm out.
Why?
Watch the video
< Sorry I'm reworking my video. In the meantime check out our Apply for a video from James.
Did you watch the entire video?
Great, onto the review.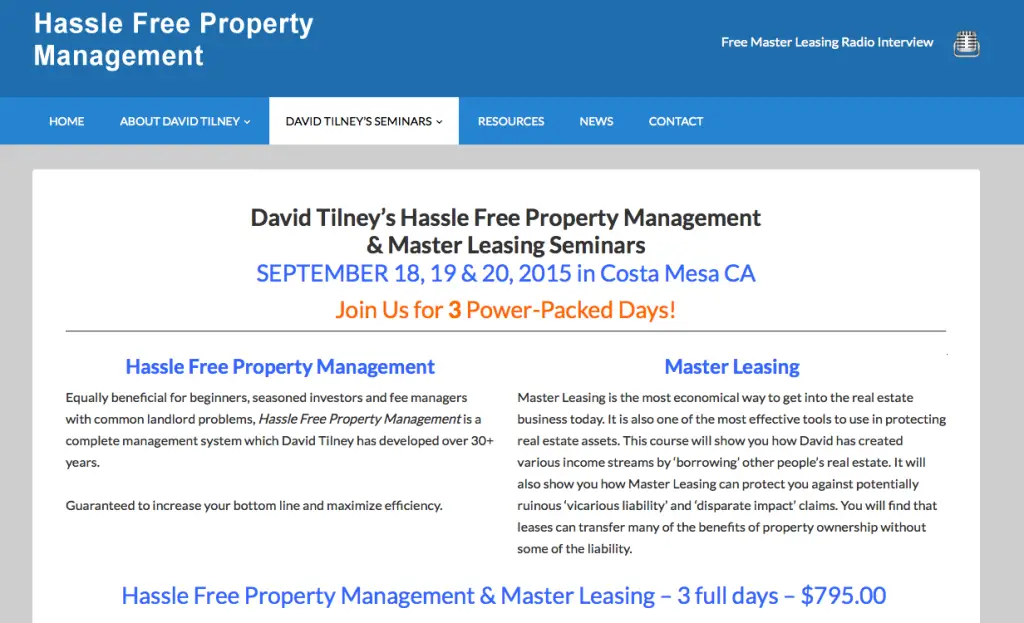 (photo credit: davidtilney.com)
David Tilney's Program Overview
Tinley's business revolves around his seminars. He leads two primary seminars: Hassle-Free Property Management and Master Leasing. Alternatively, customers can attend a three-day intensive seminar that includes content from both presentations.
People who want to attend David Tilney's seminars must fork over the $795 tuition fee. In addition to the seminar content, they also receive workbooks and other resources that they use during the seminar's talks and other events.
While Tilney is no-doubt successful—he's been giving real estate seminars for years—his model does have some limitations. For one thing, he can only organize so many real estate seminars per year. He can't be in more than one place at once, so he limits his income opportunities.
Internet marketing, on the other hand, gives people an opportunity to generate passive income. You don't have to prepare for, organize, and host an event to make money. Instead, you create value for people that continues to earn money even without your active participation.
David Tilney's Unique Selling Proposition (Keyper)
Tinley stands out in the real estate marketing guru field thanks to his unique approach. Focusing on property management and tenant relations creates for him a niche market that most other gurus don't touch.
He states that he started this work because of the problems he experienced when he first started investing in real estate. Vandalism, non-paying tenants, and other problems plagued that first property even though the initial acquisition went off without a hitch.
This niche market provides Tinley with access to customers who might have sought advice from other real estate gurus about acquisitions. It's a smart approach—and one that Internet marketers can emulate in their own efforts.
A niche market gives Internet marketers and any business for that matter a way to stand out in a very crowded industry. If you create a niche in which you establish yourself as an authority, you increase your income potential. Nobody can do everything, so a specialty market makes sense in both real estate marketing and Internet marketing.
David Tilney's Property Management Deliverables
Tinley's real estate marketing endeavors stand out in another way: he doesn't create many deliverables. His website doesn't sell or market books, DVDs, or other content. This could severely limit his income potential in a market where deliverables generate more cash than in-person events.
However, it seems to work for him. He continues to offer seminars. He also publishes blog content and provides his followers with a Resources page that lists helpful (and mostly free) places to access the information they need.
Generosity is an essential part of any marketing endeavor. It fosters relationships and creates customer loyalty. Internet marketers can employ this same strategy in their own efforts. Tactics like partially gated content and "freemium marketing" models are taking the Internet by storm.
Property Management | Should You Do What David Tilney Does?
Since David Tinley has carved for himself a specialty niche and seems to fill it well, there isn't much room for competition. However, you can use David Tinley's strategies to start your own laptop-lifestyle business from your home. I'm here to help you reach your goals and create the kind of life you want to live. The niche is local business lead generation and a group of us are killing it.  Maria posted this yesterday evening.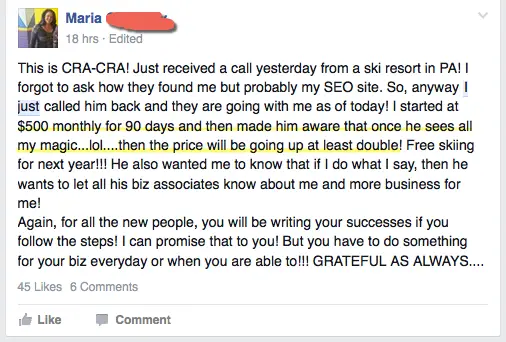 For example, as mentioned above, creating your own niche for your marketing business provides you with access to a very select group of customers. Since you get to know those people well, you understand what makes them tick and what they need. This is a powerful advantage.  What's better you can drive them new business all day….
errr day.
You can also follow Tinley's simplistic model. He has a very generic website that puts his content front-and-center. You don't need lots of flash on your website, especially if you want to make a career out of Internet marketing.
Tinley also has a proven track record of success. He's managed real estate properties for more than 35 years, which gives him the credentials to serve as a guru. If you don't have that same history, you might be better off with an Internet marketing model that doesn't require you to leverage education or experience to generate income.
David Tilney Scam Search
You can search high and low for reports of David Tilney ripping off customers, spouting inaccurate advice, or failing to deliver on a promise—but you won't find any of those things. RipOff Report and other scam warning websites do not turn up a single complaint from a David Tilney customer.
Tilney isn't accredited by the Better Business Bureau (BBB), but neither does he have any complaints. Nobody has written to or called the BBB to complain about his advertising methods, product quality, or any other aspects of his business.
Internet marketers can take a page from Tilney's book. If you operate legitimately and use your powers for good, you won't incur any bad blood on the Internet. Regardless of the type of marketing you pursue, it's essential to deliver what you promise and make money through legitimate means.
>>The Bottom Line on David Tilney<<
If you are committed to the real estate business and you know you want to become a property manager, David Tilney offers some of the best advice in the business. You'll benefit from his years of experience and his vast store of knowledge on the subject.
However, if you're not sure real estate is for you, consider the laptop lifestyle instead. Internet marketing might be a safer—and more enjoyable—way for you to make an honest living.
You can see an actual case study below. But no matter what you choose I wish you all the best!!
Peace,
Paul (Real Estate Spy)